This is a new  Closeboard Fence that was supplied and erected in Woking. The old fence was taken out and carried to a skip at front of property. There was concrete posts from old fence from which a heavy breaker was used to help in getting them out of the ground. Then installation of new fence could begin with installing and lining up new Green Treated UC4 100mm x 100mm x 2400mm Timber Posts concreted into holes at 600mm deep into ground . The Gravel Boards were Green Pressure Treated Timber at 19mm x 150mm x 2400 cut down to suit Trellis length. Arris Rail Brackets were screwed to posts and Arris Rails were cut to size and then screwed to brackets. Green Feather Edge Pressure Treated at 1800mm x 125mm was the board that was used on this fence. Green Treated 1828mm x 305mm Diamond Lattice Trellis was fitted and screwed to posts to complete new fence. This fence was build on a sloped garden.
The end result was a strong closeboard fence that looks well, gives privacy and guaranteed to last.
To get a quote for for any job you need done around the house and garden, fill in the form below giving details of your requirements, or call us now on 01293 769595 or 07789 203648.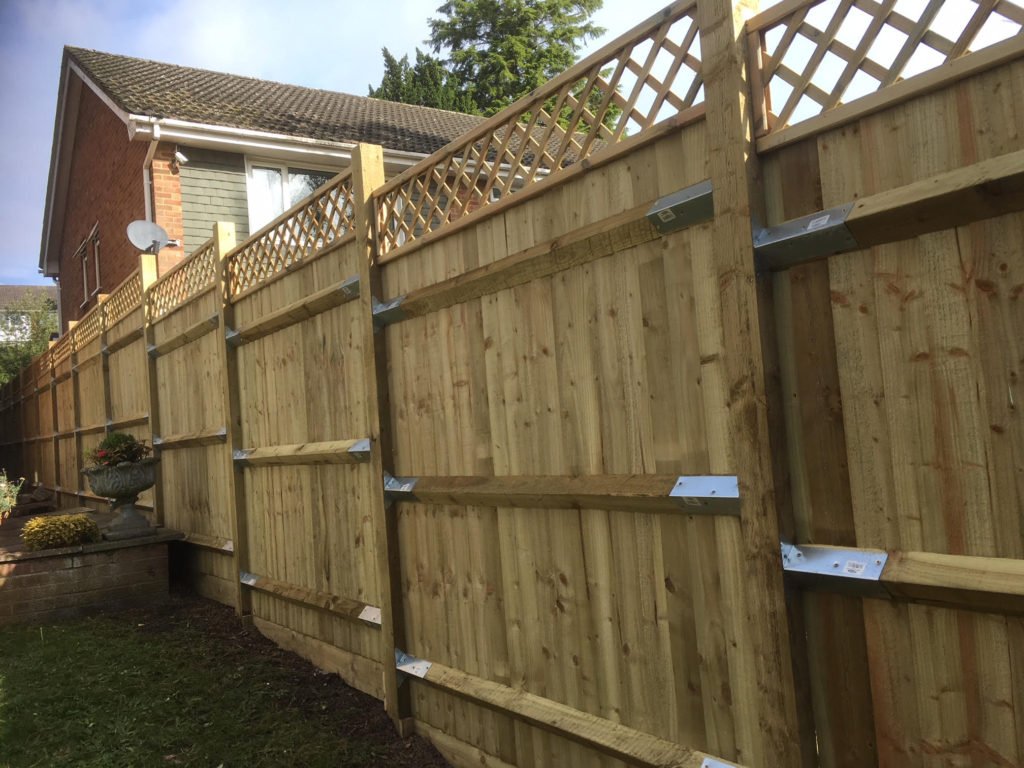 Professional service; competent, honest and reasonably priced. Did a great job assembling my flat packed furniture including my daughter's wardrobe and my table and chairs. Highly recommended.
Ambereen Siddiqui
Outstanding workmanship showing his skills and attention to detail. Thank you so much Michael, the new fence post is fantastic.
Jane Turner
Following an unfortunate incident we required some urgent repairs to our bathroom. We were lucky enough to contact Michael who responded promptly and carried out the necessary work in an extremely professional manner with all due attention to the specification we requested. We were delighted with the results and would recommend this man and his work very highly indeed.
John Tibble
Love our new front door which was hung expertly by Michael. Two Yale locks were securely fitted onto the door as well. Michael was honest, friendly and hardworking. Gave us a very reasonable quote and kept to it. We will not hesitate to use Surrey No 1 Handyman again. Thanks Michael.
Jo (Woking)
Michael is a consummate professional and a highly skilled, versatile individual. He applies himself with immense passion and is completely attuned to client needs. He is flexible and good humoured! So, if you are looking for an exceptionally competent, likeable handyman, then Michael is the man for you!
Gerry Chadehumbe
Thank You Michael! He was excellent in sorting out a variety of tasks for us - Skilled, quick, efficient and friendly - We could not recommend him more - Michael's number is now firmly at the top of the list when it comes to any job. Really great work and a lovely guy.
Jeff Botterill
Michael was quick to respond to my initial request for a quote to build a bespoke fitted wardrobe and even hung a large mirror for me whilst scoping the job. Michael returned to undertake the work a short time later, was very efficient and did a great job! Definite value for money and a genuine quality handyman. I will definitely use him again.
Deniece MacDonald